It doesn't matter what season, enjoying a beer at Deep Creek can be an epicurean's delight. Are you looking for the local watering hole or drinking establishment where you can sit and enjoy a casual conversation, a good beer, and fresh food? Check out our list of favorites and we'll see you around the lake!
Along Main St. in Accident, sits one of the greatest hidden gems in the area, the MoonShadow. Opening just a few short years ago, this is a great place to stop on your way to the lake or make a special trip during your vacation (it's worth it!). Not only can you grab a beer but also a farm to table meal too! Look for suggested craft beer pairings with specialty menu items and experience something extraordinary.   If you visit on a weekend, stick around for LIVE entertainment by local musicians.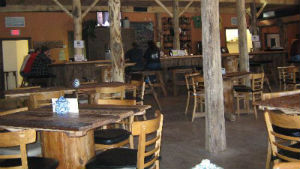 Tucked away from the traffic and crowds of the lake, the WV based craft brewer offers local favorites like Cold Trail Blonde Ale and Homegrown Wet Hops IPA. With an impressive menu of their own beers, expand your taste buds with a flight and try them all! Climb up on a sawhorse bar stool and enjoy the rustic attitude all around or slip outside at sunset for a front row seat where the sun meets the mountains,
New this year at Deep Creek, the Green Turtle sports bar offers a variety of brews in a familiar setting. Be sure to try a taste of their signature English-style pale ale, the Shell Raiser, brewed in Baltimore exclusively for the Green Turtle. Ask about the Mug Club that's been around since 1976; this may be your new hang out.
A historical landmark among generations of lake goers, the Honi Honi is certainly a summertime favorite. Arrive by boat or by car; just look for the gorilla perched atop the lakeside Tiki Hut — then, you know you have arrived! Along with popular beer choices, summertime frozen drinks cool down those hot summer nights.
Ken's Irish Pub
A bit off the beaten path but worth the trip down Elder Hill, Ken's Irish Pub is a staple in the tiny riverside community of Friendsville. With LIVE entertainment nightly; embrace an eclectic mix of music and beer in one of the counties oldest bars. A great way to wind down the weekend and enjoy your favorite beverage where the river runs north.
As summer comes to an end, call up the gang for one last get together…before ski season begins! And as always, remember to choose a designated driver and drink responsibly.