Time to get out and explore:
Maryland's best locations for your nature photos are in Western Maryland. 
Western Maryland and Garrett County provide unique opportunities for us to get close to nature. The abundance of trails and scenic byways showcases the best Maryland offers for lovers of nature and outdoor adventures. There is no better way to remember the sweeping vistas discovered from the top of the Appalachian plateaus or the close-up of the pollinators in a field of lavender than snapping a cherished photo. 
In celebration of National Nature Photography Day, we thought of putting together some locations for you to explore and bring home some magical memories. 
Here are ten incredible places you want to explore as we celebrate Nature Photography Day. 
Deep Creek Lake provides access to so many of the outdoor activities that people enjoy in Western Maryland. The 3,900-acre lake lies just west of the Allegheny Front. The lake and the surrounding park provide a multitude of opportunities to photograph nature. Once out on the water, you can snap a tree-lined shore, a setting sun, or an angler's prized moment. The still deep waters offer reflections of light and shadows that transform your photos into simple poetry. 
Fields and Farms
Capture a spectrum of white, pink, and purple as you walk through fields of over 1,500 lavender plants. This pick-your-own farm is a delight for the senses. Guests are invited to sit in the farm's rockers and enjoy the views. Capture the essence of the lavender fields in a snapshot while you pick lavender to take with you. 
This alpaca farm gives its guests an outdoor family-friendly farm experience. The hum of the alpaca will delight your heart as you snap some great photos at this working farm. Explore the farm and learn more about the local fiber industry. Alpaca Acres is a great chance to photograph some animals you may not see in your neighborhood. 
The Discovery Center Aviary is an opportunity to see nine magnificent birds of prey and to gain a genuine appreciation for the splendor and majesty of the wildlife found in Maryland. This outdoor aviary provides budding photographers a way to capture a sighting of our native owls and eagles.
Flowing Falls and Rapid Waters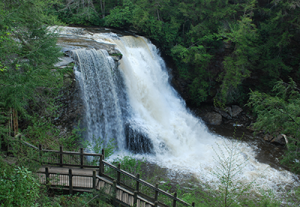 Swift falling water sets a magical backdrop for most nature lovers. The 1 ¼ mile trail guides hikers to some of the most awe-inspiring scenery. The tall hemlocks and 53-foot waterfall creates a breathtaking moment that you will want to capture. Make sure you are ready to dip your toes in the cool, flowing water. Swallowfalls give even the most novice of photographers a chance to try some new techniques. 
Rocky shorelines, fallen trees, and vegetative flats provide a new background for your nature exploration. The Wild River provides the chance for adventure seekers to try out some white water rafting or canoeing. This swift-moving water will be skill testing for those seeking that perfect rapid water photo. 
Forest and Fauna
With some of the highest peaks in the state, the Appalachian Plateaus tend to have a coniferous forest and some small peat bogs. Explore Hoye-Crest of Backbone Mountain, the highest elevation in the state at 3,360 feet above sea level. This rewarding hike-able area offers expansive views and is home to Maryland's largest surviving remnant of old-growth forest at  Potomac-Garrett State Forest along Crabtree Creek.
Casselman River Bridge is popular for picnics, fly fishing, and photography. This stone-arched bridge was built in 1813 and sets an idyllic scene for nature photography. Use this location to snap macro photos or widen your lens to capture the whole scene. 
Ready to hike and stretch your legs? Meadow Mountain Trail is known for its abundance of wildflowers. Follow the pollinators as they dance from flower to flower. This location is vast but allows for the close-up photos that you can only get when you get off the beaten path. 
This list would not be complete without mentioning the vast trails one can find at Deep Creek State Park. These trails traverse through densely wooded forests and vast meadows. Quench your thirst for wandering as you lose yourself in the moment. These trails provide every photographer a chance to capture that perfect moment in time as they connect with nature.