Do you love boating, water skiing, and other #lakelife activities? Are you ready for a summer vacation full of adventures? Do you need to get away to unplug and unwind?  If you answered yes to any of these questions, look no further than a getaway at Deep Creek Lake in Maryland. We have come up with the best Deep Creek Lake summer activities for families, couples, solo adventurers, and dog lovers.
Deep Creek Lake Summer Activities
We may be biased, but as locals, there is no better place to experience the outdoors than at Deep Creek Lake. Between the lake and the mountains, you can catch a break from all the busyness of life and the unending to-do lists. Enjoy some time away from technology with some adventure and relaxation tied together. 
Lake Activities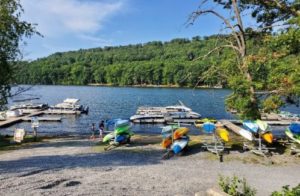 Deep Creek Lake is the largest in-body lake in Maryland and offers fun activities for anyone to enjoy. When planning out your Deep Creek Lake vacation, here are some activities we suggest!
Water Sport Rentals – Visit Fun Time Water Sports for rentals – they have boats, tubes, wave runnings, kayaks, and paddle boards for rent up to 8 hours. 
Kayaking Tours – Book a kayaking tour with All Eco Earth Tours for a fun way to experience the lake and learn about the area and history. You might even spot soaring eagles! 
Water Ski/Wakeboard Lessons – Learn from a local instructor, Greg Rouse, how to water ski or wakeboard. Greg has been teaching lessons for over 20 years! 
Sports 
The area has a lot of sports activities. Here are a few of the sports you can enjoy during your Deep Creek Lake vacation. 
Fishing and Hunting – Deep Creak Lake and the surrounding areas offer a variety of locations for fishing and hunting. Visit Fish & Hunt Maryland for rules, regulations, and licensing. 
Golfing – Book a tee time Lodestone and Fantasy Valley. Both 18-hole courses are owned by Wisp Resort and are local favorites. 
Axe Throwing – Test out your throwing skills and coordination at Deep Creek Axe Throwing Co. This is a thrilling and fun activity for families, couples, and singles (ages 8+). 
Outdoor Adventure Parks
Photo Credit: Wisp Resort
These adventure parks are perfect for the family, couples, or solo-adventurers. Here are two in the area we like!
Monkey Business – For zip lining and a huge outdoor obstacle course, visit Monkey Business Adventure Park. They offer fun activities for the whole family (ages 5+). 
Wisp Resort – Wisp Resort offers zip lining, as well as a mountain roller coaster, aerial adventures, golfing, and more. 
Dog Friendly Areas
We love vacationing with our dogs. If you do too, read our post about Dog Friendly Activities Near Deep Creek Lake. Here are a few restaurants and hiking areas we suggest visiting with your dogs. 
Restaurants – For dog-friendly restaurants, we suggest:
Hiking – Dog-friendly hiking trails:
Book Your Deep Creek Lake Summer Vacation with Blue Moon Rising!
Enjoy all these Deep Creek Lake summer vacation activities (and more!) when you book your stay with Blue Moon Rising. Unplug and rewind with a unique lodging experience while spending quality time with the ones you travel with. Whether you are traveling with your family, your loved one, your dog, or for a solo adventure, we're ready for you. See you soon!