What we throw out matters.  Before you toss out broken items or things past their prime, consider a few things: can it be recycled, is it something someone else can use, or can it be given new life?  Check out these 7 ingenious ways we found to recycle, reuse, and repurpose: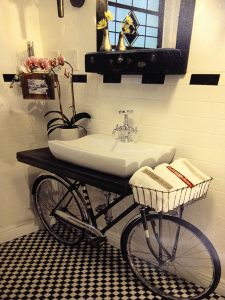 Do you have an old bicycle sitting in the garage wasting away? Put it to good use inside your home. Use it as a functional piece of furniture or a fixture that performs to meet your interior needs…check out this one in the bathroom. Did you know: every ton of recycled steel saves 2,500 pounds of iron ore, 1,000 of coal, and 40 pounds of limestone
What to do with broken or chipped dishes? Make an art deco project in the yard with broken or chipped plates, cups, or old ceramic flowerpots. Break them into smaller pieces for a unique and stunning landscape project around trees and in hard to maintain areas.  Did you know: Americans throw away about 28 billion glass bottles and jars every year.
Short on closet space? Make wise use of old folding chairs and create your own closet anywhere there's a wall. Unfold the chair and secure to a wall and presto, you've got a make-shift closet.  Did you know: recycling conserves finite natural resources — this is critical as  population continues to grow exponentially.
Turn a broken garden rake into a useful rack. What happens when the handle of the yard rake breaks and your left with just a line of metal prongs? Discover the endless possibilities of the broken rake.  Did you know: the average person generates around four pounds of trash every day and about 1.5 tons of solid waste per year.
Do you recycle aluminum cans? If the answer is yes, kudos to you!  Soda cans continue to evolve into its own art form with eye-catching graphics and logos.  Cut out your favorites designs or logos and make custom jewelry. Did you know: the average person has the opportunity to recycle more than 25,000 cans in a lifetime.
Tired of those white plastic grocery bags wreaking havoc on the environment? We have a solution; make a "no-sew" grocery tote made from old t-shirts.  Not only will you repurpose a  t-shirt, but you save the environment from a plastic bag epidemic. Did you know: plastic bags are produced using petroleum, natural gas and other chemicals toxic to the environment.
If you know your way around the wood shop, this may be a fun and easy project. Take an old dresser and transform it into a bench.  You won't believe the transformation!  Did you know: over 75% of waste is recyclable, but we only recycle about 30% of it.
Without a doubt, if society collectively and simultaneously works together to recycle, our natural environment will survive.  Don't rely on municipal authorities and waste companies to solve the problem, it starts with us, the consumer.  Be a responsible earth citizen and do your part to recycle and repurpose every day!  Learn more here about the earth-friendly practices of Blue Moon Rising, where "nothing goes to waste."
Sources: