Planning a wedding this year? Consider a destination woodland wedding venue in one of your favorite vacation spots, Deep Creek Lake, MD. Take it a step further, and make your wedding an event your family and friends will talk about for years to come. With the help of Blue Moon Rising, a unique woodland resort overlooking Deep Creek Lake, create a magical experience for all who witness the start of your happily-ever-after.
Fall in love with the venue! Part of the joy of a destination wedding is showing off a place that has special meaning to you, be it bringing friends and family back to a beloved vacation spot, like Deep Creek Lake. Blue Moon Rising is a joy in itself, with an enchanting mountaintop menagerie of eco-friendly tiny cottages, each as unique as its name. The resort will host your family and closest friends for an extended weekend of celebration. Your guests, of all ages, can play among the 115 acres of rolling hillsides; stroll under tree canopies, or view the lake from many perspectives.
Blue Moon Rising provides exclusive access to you and your guests for your entire stay. You'll be at your destination for a few days, so you'll have plenty of time to work with caterers and other vendors in preparation of your special day. Plus, you'll have time to enjoy your guests! Located at the heart of Deep Creek Lake, you are just a 'walk down the aisle' to activities galore. Your celebration itinerary is limitless.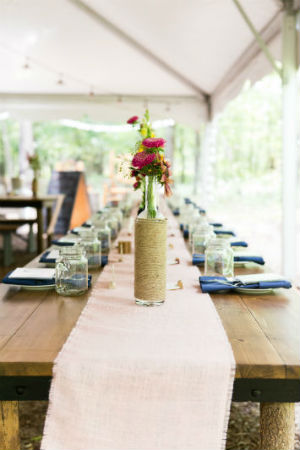 Remember why you are getting married in the first place. Don't get caught up in the minutia of planning every last detail, let the folks at Blue Moon Rising help with your planning and setup. They can help arrange for tents, catering, and so much more. If you already have a wedding planner, they can work directly with the Blue Moon Rising staff to bring your event to life.
With nature as your cathedral, the resort is situated in a glorious pine forest creating an amazing backdrop, keep it natural or add your own touches, of course. Schedule your celebration events as you wish; enjoy things like an evening bonfire, or maybe a potluck dinner in the forest — whatever your heart desires. Your ceremony will take place in the "Universal Evergreen Chapel of Earth", an outdoor seating area in the center of a towering pine forest. Your reception can go into the wee hours of the morning, no worries on time limits or last call…it's your private paradise.
Your happily ever after starts here. As you conclude your extraordinary weekend, gather your group for a send off brunch, or maybe take a family hike, whatever the activity, your family and friends will feel energized and renewed…all because you fell in love. Discover woodland wedding options at Blue Moon Rising, and start your Deep Creek Lake wedding plans today!
[su_button url="/woodland-wedding-venue/" style="soft" background="#5879ad" size="5″ radius="0″]Start Planning Your Wedding. Click Here![/su_button]
[gmedia id=39]