It has been ages since you have been able to see your friends! It is time to breathe some fresh mountain air and find a spot where you can sit down with your friends and reconnect. How about an eco stay on the east coast? Blue Moon Rising's top priority is to give you a comfortable, cozy, and yet eco-friendly vacation spot to relax and have fun! How about an eco stay on the east coast?
We have collected some ideas that will make your time together at Blue Moon Rising memorable. 
Fresh Start for your day
Start your morning right with a yoga-to-you session. This 60-minute session will bring the yoga right to you and your friends for some early morning stretching. Ready for a decadent treat? Grab a donut and a cup of coffee at Deep Creek Donuts. This micro-factory serves their donuts fresh and hot. Their selection of over twenty toppings will make each donut a unique experience. You will have a hard time walking away with just one. 
Creativity and Culture
Head out this morning for a crafting experience. Follow the Garrett Barn Quilt trail. Have your group snap photos of their favorite quilt pattern on the barns surrounding deep creek lake. The Garrett Barn Quilt tour has over 45 barns participating and is one of the first in Maryland to highlight this tradition. This tour will get creative juices flowing: create a photo collage for your trip, or start a best friend quilt where you each select your favorite barn quilt and get sewing. You can create a keepsake to commemorate this trip and years of friendship. 
A Trunkful of History
Garrett County has set up some sample tour itineraries that can get you started on your antiquing adventure. You can combine your love of history and antiques by exploring the beautiful countryside. Venture out to Casselman Bridge State Park and swing by Spruce Forest Artisan Village, and get inspired. 
Farm to Table 
Set out today and explore some of the fun and unique farm experiences at Deep Creek Lake. Pick out a favorite cider at the Branch Bender Cidery. Sample some of the natural wine selection at Deep Creek Cellars, or grab some of the hand-crafted delicacies at the award-winning Firefly Farms. Don't forget to bring home extra to share! 
Eat at Moon Shadow, the only scratch kitchen in Deep Creek lake, locally sourced ingredients, and live music awaits you. Relax around your campfire and watch the sunset while you drink a delicious craft beer. The Garrett Farms website has some superb local choices for exploring the lush farmlands in Western Maryland.
Adventure-some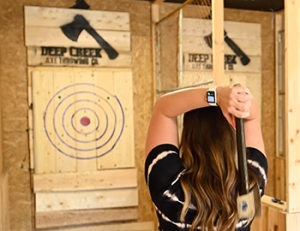 Ready for a new type of adventure? Hop on an ATV and hit the trails! Rent an ATV at Western Trails. They offer 4-seater and 2-seater options. You will be guaranteed fun with this guided side-by-side tour. After your exhilarating ride through the trails of Western Maryland, it is time to prove your lumberjack skills. Get ready to throw a few axes while you toast to your friendship at the Deep Creek Axe Throwing company. 
A Sunset cruise
A trip to Deep Creek Lake would not be complete without a memorable moment or two on the lake itself. You can spend your time sitting on the beaches at the state park, hiking the miles of trails throughout the mountains of Western Maryland, and even trying your hand at some paddleboards. We can think of no better way than watching the sunset while on the lake. 
Grab up your friends for your eco stay, bring the array of the local goodies you picked up at the farmer's markets, and jump aboard a pontoon boat. High Mountain Sports has pontoon boat tours that you can charter for your sunset cruise, hop aboard and toast to a beautiful friendship! 
Book Your Eco Stay on the East Coast Now
Click the link to go to book a cabin at Blue Moon Rising now so you can enjoy all of the beautiful experiences Deep Creek Lake and Maryland have to offer. There are so many fun activities and adventures to pursue during your eco stay while having your best friends join means memories to last a lifetime! Has reading through all of the amazing activities to do got you excited? If so, go now. We look forward to seeing you!