Over the past year, since we have been making serious progress, we have made friends with some wonderful people in the Tiny House Community. For those not familiar with the Tiny House phenomenon, do a quick Google search and you will see a plethora of designers, builders and enthusiasts that have dove off the simple living cliff.
The builder of our tiny homes, Bill Thomas, is starting to get some recognition for the beautiful designs that he has created. Check out the website for his company, Hobbitat.
---
Check out some of our new Tiny House Friends
– Relaxshacks.com – Derek "Deek" Deidrickson is the genius behind this madness. Deek is consistant with innovative ideas for simple homes. He has tons of videos and photos for you to get your creative juices flowing.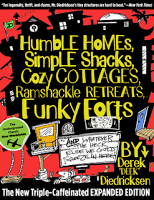 – Tiny House Blog – This blog is a great way to stay connected and inspired with new ideas and concepts for designing a tiny house. Alex Pino is part designer part cyborg. Sign up for his newsletter and get tiny house eye candy sent to your inbox almost daily.
– Humble Homes – We have been following these guys on Facebook for awhile now, and they are always posting innovative designs of tiny houses.
– I Heart Tiny Houses – With over 5k fans, check out this Facebook page for Tiny House lovers.
– Four Lights Tiny House Company – If you are into Tiny Houses and you haven't heard of Jay Shafer, you should check out his tiny house building company. Jay recently did a TED TALK on Tiny Houses. Click Here
– Tiny House Vids – The best collection of tiny house videos on the internet. You will even find a few of ours on there!