Maryland has an abundance of hiking trails for all levels of hikers. Its landscape of forests, mountains, and wetlands bring unique nature and wildlife throughout the state. The mountainous area on the western side of Maryland is where you can find the best hiking spots. From a local's perspective, we want to share with you the best western Maryland hiking trails!
Where to Find the Best Hiking in Maryland
The best hiking trails in Maryland can be found on the western side of the state. The mountainous region is split up into 3 categories: the Appalachian Plateaus Province, the Ridge and Valley Province, and the Blue Ridge Province. 
The Appalachian Plateaus Province in Garrett County has the most hiking trails and also the highest peak at Backbone Mountain (3,360 ft). Also located in the county is the largest lake in Maryland and a favorite tourism destination, Deep Creek Lake. The lake brings adventure for families, couples, and groups during the spring, summer, and fall seasons. 
Western Maryland Hiking Trails We Love
There are too many hiking trails to count, but we want to share with you some of our favorites in the area. As local outdoor enthusiasts, we enjoy these incredible western Maryland hiking trails. 
1. Swallow Falls National Park
Swallow Falls is located in Garrett County just 9 miles north of Oakland. Its hiking trails present breathtaking views, including Muddy Falls 53-foot waterfall – a must see! The three waterfalls lead into a swimming pool in the national park. Swallow Falls hiking trails are both family-friendly and dog-friendly.
2. Hoyes Crest
A hike on Hoyes Crest will get you to the highest mountainous point in Maryland (3,360 ft.) on Backbone Mountain. This is a moderate-to-difficult hike with the most spectacular views. Hoyes Crest can be hiked at any time of the year, including snowshoeing in the winter. It gets colder and windier at high elevations, so make sure to check the weather before your hike!
3. Kendall Trail
We love Kendall Trail because it's family-friendly and dog-friendly. It is a four-mile out-and-back hike along the Youghiogheny River. You will spot gorgeous wildlife and nature including rare plants and wildflowers. If you enjoy traveling with your dogs like we do, check out these other dog-friendly activities and restaurants in Garrett County. 
4. New Germany State Park
New Germany is a hidden gem of western Maryland between the Big Savage Mountain and the eastern Continental Divide. Its 10-mile trails are perfect for hikers, mountain bikers, and skiers, alike. Within the park is also a small lake for family-use. 
5. Deep Creek Lake State Park
Last, but certainly not least, is Deep Creek Lake State Park. Its many hiking trails are great for all age levels and are also dog-friendly. If you're looking for a longer hike, experience a 5-mile loop on Beckman's Trail, Meadow Mountain Trail, and Indian Turnip Trail Loop. For a shorter hike with kids, take the Snakeroot Nature Trail via Indian Turnip Trail, which is a 1.2 out-and-back trail hike.
The state park is also a popular spot for fishing, hunting, and boating. Deep Creek Lake is Maryland's largest lake and a popular tourist location for water sports and adventure.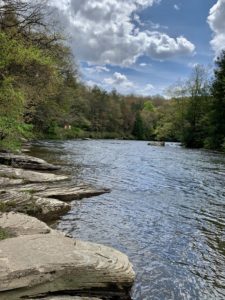 Deep Creek Lake Hiking Tours
If you are looking for a fun way to enjoy some of these great western Maryland hiking trails, check out All Eco Tours. Their tour guides will take you through the best hiking trails while teaching about the history of the area. We highly recommend their tours!
Let Blue Moon Rising Host Your Hiking Trip! 
Blue Moon Rising would love to host you for your hiking trip. Our cabins are located in Garrett County off of Deep Creek Lake with easy access to the best hiking in Maryland as mentioned in this post. Learn more about Blue Moon Rising to find out why our guests love staying with us. We look forward to seeing you soon!