Trick or Treat! The Halloween season is upon us, and it's time for costumes, decor, pumpkin carving, and fun. But, let's not forget to keep sustainability in mind as we plan our spooktakular activities. If you're like us, you care about our planet. Reducing waste and caring for our environment during Halloween is easy AND fun. In this article, we share our tips for an eco-friendly Halloween season. 
1. Eco-Friendly Halloween Decor
You can't fully be in Halloween mode without the spooky decor! Here are some tips for decorating during your eco-friendly Halloween.
Jack-o-Lanterns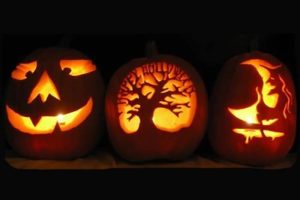 Photo Credit: River Birch Candles
For Jack-o-Lanterns, you have two options for eco-friendly lighting:
Soy-based candles: these are organic candles that don't release harmful chemicals into the air.

LED lights – these are not only a great, eco-friendly alternative to candles, but will also last you several Halloween seasons!
After you have carved your pumpkins, there are lots of great ways to bake your pumpkin seeds for a healthy snack. Check out this list of 5 Options for Baked Pumpkin Seeds. Don't forget to compost your pumpkins instead of trashing them!
Halloween Ghosts
Photo Credit: Life on Summer Hill
Halloween ghosts are easy to make from old sheets you no longer need. There are so many ways you can Recycle, Reuse, and Repurpose and this is one of them. You can read this article on DIY Sheet Ghost Halloween Decorations for instructions on how to make your ghost.
After Halloween, don't throw your decorations away. Store them carefully and reuse them in the coming years. If you've grown tired of some decorations, consider donating them for others to enjoy.
2. Eco-Friendly Halloween DIY Costumes
DIY Skeleton Costume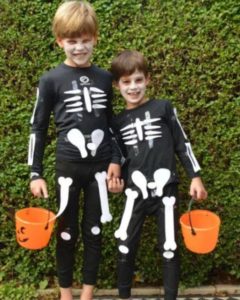 Photo Credit: Red Ted Art
These DIY skeletons are easy and creative with only 4 materials: black clothes, white paper, sellotape, and optional white face paint. For directions on how to make these and for skeleton bone printables, visit this post on Last Minute DIY Skeleton Costumes
DIY Mummy Costume
Photo Credit: Costume Works
Mummy costumes are another easy way to reuse and refurbish items you no longer need. This one was made out of strips of old, white t-shirts. For instructions, visit this page for the  DIY Mummy Costume. 
Non-DIY Costumes
If you are running out of time or don't want to DIY your costume, many stores sell second-hand costumes. Costumes often only get used once and are never taken out again. Take advantage of second-hand shops for costumes like Kid-to-Kid, Once Upon a Child, or Goodwill. 
3. Eco-Friendly Halloween Candy
When handing out treats to trick-or-treaters, choose eco-friendly options. Look for candies with minimal packaging, or consider giving out non-food items like stickers, pencils, or small toys. Avoid individually wrapped candies that generate excessive waste.
4. Reusable Candy Bag Options
Instead of buying plastic pumpkin candy containers, reuse what you already have. Pillowcases and baskets you already have at home work well. Remember, it's the DIY costumes that people are focusing on – not the candy containers/bags.
Enjoy an Eco-Friendly Getaway!
If you enjoyed this post, you most likely care about the environment like we do at Blue Moon Rising. We are located within walking distance from Deep Creek Lake in Maryland, offering tiny home cabin rentals. 
Enjoy all the Deep Creek Lake area has to offer for adventure and relaxation tied together. 
Read our story about how our cabins are environmentally friendly. Visit our blog for Sustainable Tourism and Eco-Friendly Living.